Simple and Helpful Advice for Starting a Career in Salesforce and FinancialForce
Starting a career in Salesforce? A word to the wise from OpMentors consultant
With the rapid growth of Salesforce and FinancialForce, there are new job opportunities left and right. That said, starting a consulting career in this industry can be intimidating. To help make the transition smooth for anyone looking to take the leap, today, we have OpMentors FM Consultant, Brandon, share his real-world experience of breaking into a FinancialForce consulting role with OpMentors.
---
"I wanna go fast." Those words from Ricky Bobby in Talladega Nights resonate with me. When I start a new job or learn new software, I want to immerse myself in it fully. I want to go fast. That's me. But sometimes, it's important to slow down and take a measured approach to learning. That's especially important when starting a career in Salesforce and FinancialForce.

My Salesforce life began when a past employer implemented Salesforce as their CRM solution. It was different than the previous CRM that I had used. I liked it because it was intuitive and had free training. I quickly signed up for Salesforce Trailhead during the rollout and went to town. With the skills I learned, opportunities opened up, and I found a new job with FinancialForce support. I wanted to learn as much as possible, and that's exactly what I did.
Starting a new career can be really exciting — especially one in the Salesforce ecosystem! When I joined OpMentors, I was fresh from getting my Salesforce System Administrator certification. My mindset was literally, "Put me in, coach! I'm ready to play!" However, I was quickly reminded how much there is to learn when starting a new job, particularly one in the world of software. Luckily, OpMentors has excellent mentors that helped me to learn what I didn't know and accelerated my learning curve.
My advice for starting a career in Salesforce and FinancialForce:
1. Learn from mentors.
For some, learning from mentors can be humbling. It's important to have a growth mindset. Our abilities are not set in stone; asking for help is how we learn and grow. There are setbacks along the way, such as a flow not working the way we want or having to convey a difficult message to a client. However, mentors and colleagues with the right experience can help you learn quickly.
2. Stick to the fundamentals.
All software, including FinancialForce and Salesforce, share fundamental processes. For example, a Purchase Order can turn into a Purchase Invoice; and a Billing Event can be created from a Project and turned into a Sales Invoice. We can rely on these fundamentals when creating or explaining a new process. Returning to the basics is also valuable when troubleshooting.
3. Be patient.
All good things come in time. Maintaining the right mindset, determined yet humble, is pivotal and will help you through any sticky situation. Remember what brought you to the show. You have "the right stuff." Give yourself the grace and patience you would give anyone else. Learning a robust new software in a challenging new career comes with a learning curve. You can't learn everything overnight, and no one expects that of you.
4. Slow down.
It can be incredibly tempting to blow through training and jump in with both feet. You may feel internal pressure to become billable quickly and prove yourself worthy of your new role. You are probably eager and excited to start configuring and getting in front of clients. But, it is important to pace yourself and follow the principle of "crawl, walk, run." It is more valuable to have an abundance of tools in your toolbox (even if it takes you a bit longer to gather them all) than it is to get in front of clients as quickly as possible without the foundation and skills necessary to help them truly.
5. Be okay with making mistakes.
Read that again. You will make mistakes. You will come up against problems you don't know how to solve. You will have to go through many iterations of trial and error regularly. This is normal and incredibly helpful when it comes to becoming an expert. Even tenured consultants still make mistakes and still learn new things. It's part of the game and doesn't make you a "bad" consultant. You are likely surrounded by experienced consultants, and it would be unlikely that there is a fire that they, or your managers, can't put out!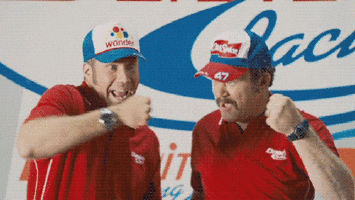 Navigating a new career can be challenging and filled with uncertainty, hopefully with these tips and hearing from Brandon's personal experience you feel excited to dive into this incredible industry. Remember, you can go fast, but you could burn out and make even more mistakes. To bring it back to the infamous Ricky Bobby, he also said, "If you ain't first, you're last", which for this journey is not beneficial. Slow and steady will win this race in your career journey and you'll have the support you need to succeed.
Interested in starting a career in Salesforce or FinancialForce? Apply at OpMentors now! We're always looking for motivated individuals to join our team and learn alongside us.
Brandon Urtel