The Dreamforce National Park, built between the Moscone buildings, had roughly 40,000 people walk through to celebrate the return of in-person (general public) Dreamforce after three long years.
While the most exciting part of Dreamforce is being live with the energy and camaraderie of the community, they did launch Salesforce+ so everyone around the world could partake in the fun.
While the networking and social aspect heavily drive the in-person experience of Dreamforce, technical innovations, partnerships, and philanthropy efforts are also announced. If you couldn't make it to Dreamforce or watch all the updates as they rolled out, don't worry, we've got the major highlights of Dreamforce '22 here for you.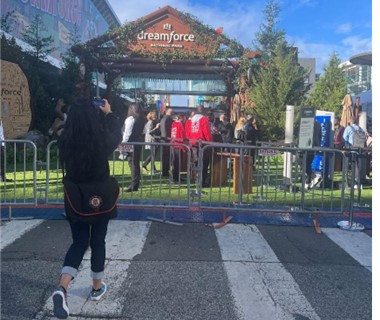 I Dream of Genie
The most notable announcement this year was Salesforce Genie. Called the "real-time platform for customer magic," taking the already powerful flow automation and Einstein AI to 'real-time" performance. Salesforce Genie has two main differentiators. First, it's real-time, meaning data flows to the company in milliseconds allowing them to act on updates. Second, the customer interaction from this real-time data , unlike anything we've seen before, means a deeper understanding of your customers' wants and needs. How does Salesforce Genie work?
Connect: It connects all your data. Web, Mobile, CRM, Devices, API, nearly infinite scale.
Harmonize: Genie harmonizes your data into what Salesforce calls the Customer Graph. All the data in a succinct customer profile.
Engage: With all your data in real-time and updating as your customer engages, this allows the company to take action on interactions with them.
Experience: Overall, we all look for that seamless customer experience when interacting with a company. Genie allows the company to be proactive in aiding its customers instead of reactive.
For another look at Genie, click here.
Slack-er? Hardly.
The other major news released was Slack Canvas. Anyone who has used Quip knows that it's wonderful for many things but didn't quite tie into Salesforce as much as we desired. Slack Canvas allows teams to capture and store information directly inside their workspace, thus reducing the need to scour multiple systems to find information. Top takeaways for Slack Canvas?
One Canvas per channel, but it can include most forms of media
Ability to embed data and records from other tools such as Salesforce, Tableau, Google Workspace, Jira, and others
Workflow automation to automate critical tasks with continuous updates to the users of the channel
There is no timeline or pricing for release…yet.
You can read more about this new tool here.
Philanthropic Highlights
Lastly, we couldn't talk about Dreamforce without talking about Marc and Lynne Benioff announcing their astounding $60 million gift to UC Santa Barbara. If you aren't aware, Whale Safe is a recently launched whale monitoring and alert system and the donation money will go to expanding the work conducted by Benioff Ocean Science Laboratory. The BOSL uses science and technology to address the ocean's most pressing issues, such as whale-ship collisions, plastic pollution, and deep-sea mining.
To learn more, click here.
Overall, Dreamforce '22 was packed with partnerships, long days of networking, technology stacks, and community bonding. If you haven't attended a Dreamforce before but want to start on a smaller scale, try out a more local Dreamin' event!
As always, our team is here to help you get the most out of Salesforce or FinancialForce. Schedule a call today to learn more about how we can ensure you're maximizing these platforms in your business.
Kelsey Gibson