OpMentors Associate Consultant Meghann Milligan took up running around the same time she dove into Salesforce.
She had no previous experience with running or Salesforce. Meghann admits she wasn't technically inclined when she started learning about Salesforce—she got her bachelor's degree in anthropology and classics! Previously a volleyball player, she wasn't inclined to running as a hobby either. But she discovered a lot of crossover between both interests.
"To be successful at running and avoid unnecessary injuries," Meghann explained, "you need to start gradually and build up strength and endurance."
Learning the ropes of Salesforce was no different. Before Meghann discovered the power of the Salesforce platform, she owned her own business as a massage therapist. Later she took a course on data analytics while working as a client operations manager at a mental health clinic.
Then she learned about Trailhead, a free educational tool from Salesforce. She found a new passion—and a new career path—she wanted to pursue.
"I went from being a massage therapist that sold fancy soap to someone who builds organizations and plays with declarative coding to streamline processes," Meghann said. "I really am a student at heart. I was always the kid asking, 'WHY!?' I like knowing how things work, why they work the way they do, and how to make it better. Once I started down the paths Trailhead, it really started to fire up the neurons."
Meghann started gradually running—literally and metaphorically on Trailhead. She learned that being a successful runner and becoming a successful Salesforce consultant both require you to start small and build strength and endurance. If you're unfamiliar with Trailhead, here's how Meghann describes it:
Trailhead is a gamified learning platform, and by that I mean you complete "trails" and earn badges, and you reach different ranks based on how many badges you earn. The Trails are on all things Salesforce from "How to Be a SysAdmin" to "Learning APEX" and "UX/UI Design." I think it's one of the most brilliant ways to bring people into an ecosystem who may or may not have that tech background… And as someone who loves learning (the ongoing joke in my family is that I would be a professional student if possible), this is an exciting "dream" platform. There's always something new to learn!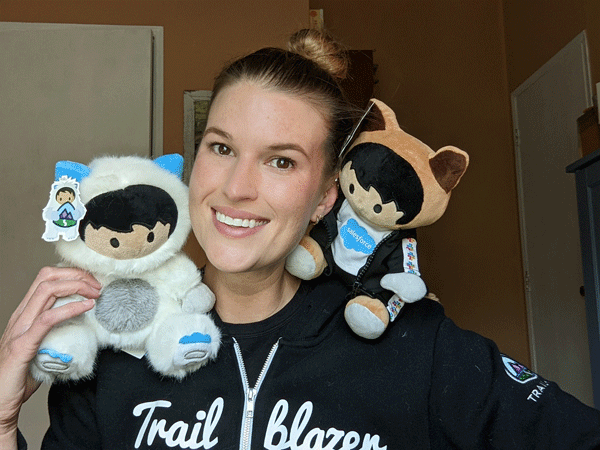 At the same time, Meghann began learning the foundations of running and Salesforce—and why they matter. She says understanding the foundations are important when dealing with compounded systems, whether you're referring to the physical body or Salesforce platform!
"You're in charge of complex systems in both of these instances," she said. "When running, you need to focus on your form, your breathing, your foot placement, stretching your muscles, and hydration. In Salesforce, your focus is on object and user management, permissions, security, and clouds!"
Grasping the foundations are so important when learning your way around Salesforce, and Meghann wants to encourage readers just starting out to be patient with yourself.
"My boss tells me all the time, 'Crawl. Walk. Run.' I think it's so easy to want to dive into the deep end," she said. "Sometimes, you forget that knowing your security settings, profiles, and permissions—this is your bread and butter."
Once you get a handle on the foundations of Trailhead and Salesforce, it's important to also understand the "why" behind what you do on the platform.
"To be successful at Trailhead and Salesforce, you need to understand the core of CRM—the 'why' behind the Trail," Meghann said. "Anyone can just click and blitz through the modules and earn those badges, but what have you retained?"
As you learn to solve complex problems, the "why" becomes important. Just like anyone can take up running, many different types of organizations, structures, and systems can take advantage of Salesforce because of its adaptability. However, the "why" is important for optimizing Salesforce so that it meets your unique needs. Meghann recommends Trailhead Superbadges to deepen your knowledge and understanding about how Salesforce works once you've got the basics:
I love the Superbadges, which are the best way to learn in my opinion. This outlines a problem you need to tackle. It doesn't tell you how so it's a great way to see what you've retained. I wish other people knew [Trailhead] is a guide. Eventually, when you get into the ecosystem (and, by this, I mean you land a Salesforce job), there are so many different ways to solve for X that you need to be able to open yourself up to the possibilities.
Now that she's learned to crawl, walk, and then run on the Salesforce platform herself, Meghann loves to help OpMentors clients solve complex problems too. She hopes her journey encourages you to have patience with yourself while learning how to maximize Salesforce and FinancialForce in your own organization. She also says not to take yourself too seriously:
Even though it's silly, WRITE IT DOWN when you learn something new. Six months from now you'll look at a note and think about how adorable it is that at one point this was noteworthy… It takes time. Be patient with yourself. There's no perfection, only progress. This is all applicable to running and Salesforce. I know it sounds like the worst platitudes, but they are all true. You are going to look foolish, and it's so much easier if you can accept that you're learning.
Meghann and the rest of our team at OpMentors are passionate about helping business leaders like you get the most out of Salesforce and FinancialForce. Want to learn more about how these solutions can adapt to meet the unique needs of your organization? Schedule a call today, and let's talk about how our team can help you get started.